To kick off Mashable Social Media Day at Boston University, Professor of Public Relations Steve Quigley identified 3 buzzwords:
Free, Sex, and Beer
Careful use of these buzzwords will cause an audience to sit up straight and briefly shift attention in your direction so the actual message can be delivered.
Here is a modified buzzword that is paramount for online sales: Free Shipping
Shipping costs can make or break the success of online product sales.  Charging too little for shipping can cause you to lose money while charging too much can prevent many potential orders from being placed.
You cannot eliminate shipping expenses but you can eliminate the distractions they cause by building the costs into the purchase price.
Building shipping costs into your purchase price is critical to selling products and here's why:
Customers HATE to pay for shipping
Someone that puts a $10 CD into a shopping cart and is later informed that shipping adds another $5 will quickly reconsider the purchase.  Once prospective customers get a product in their shopping cart 71% will still end up not buying.  In addition, a Forrester Research study in 2010 showed that the biggest reason for shopping cart abandonment was because shipping and handling costs were too high. 
Fans LIKE paying those that are responsible for creating the things they value
Fans would much rather give $15 to the artist they love rather than $10 to them and $5 to FedEx. Even if part of that $15 is going towards shipping, the delivery of the product should be the concern of the seller and not the fans.
Pricing a product higher can actually cause people to value it more
"All value is perceived value," says Ad man Rory Sutherland in his fantastic TED talk.  Pricing can have an effect on the perceived value of a product.  Making your physical release compelling and worthy of purchase over an instant download is as critical as pricing it to match the added value.  If you are charging $10 for a download and the same for the CD it might be worth rethinking the current pricing strategy.
An important resource for those seeking to lower shipping costs is Fulfillment by Amazon.  For a small monthly fee of less than $1 per cubic foot the online behemoth will store and sell your product for you while offering 2 day shipping to Amazon Prime members and free standard shipping to anyone spending over $25. Amazon has mastered the art of inexpensive and fast shipping better than all competitors. They are able to pass the savings on to those that sell through them and charge just $1 to ship each CD sold on the site.
Remember that shipping will never be free for the business but it should always be "free" for the customer. Charge your customers for what they value and stop discussing shipping costs or anything else that could potentially turn them away from buying.  By building shipping costs into the price you decrease the friction that can halt a potential purchase.
What is your current physical shipping strategy?  What is your online sales buzzword? Weigh in below with your thoughts and experiences.
Special thanks to Howard Pinsky for the Beer text.
Lemon Juicer is a new series of short posts about entrepreneurship and playing to your strengths.  They are (relatively) concise and designed to get you on the right path for turning your ideas into lemonade.
Dallas Mavericks owner Mark Cuban has written in his blog numerous times that being young means you need to keep trying to new things, taking risks, and learning.  In his opinion, trying to focus on one thing is a terrible idea.  He's absolutely right.  Now is as good a time as any for young creatives to travel the world and expand their palette of global inspiration.
When you decide to start a business or company you must take one of your deep-rooted passions and focus solely on that.  You cannot do everything.
A company that tries to do everything does everything poorly.
When you decide what you want your business to be you must set out to be the best at one very specific thing.  You need to be so good that people cannot help but rave about you and your product.
Nuts.com is a business with deep roots that started over 80 years ago "on the brink of the Depression," as the Newark Nut Company.  Grandpa Sol "believed in choosing only the highest quality super colossal nuts from the world's best growers. He would then roast the nuts to perfection for a fresh, delicious flavor."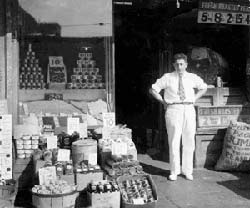 Grandpa Sol did one thing; sell dried snacks, but he did it better than anyone else.
Today, the third generation of the family faces much different competition than their grandfather did.  Now everything is delivered by mail and their customers are looking for convenience.  Amazon is the delivery giant but Nuts.com stays the best at delivering their natural snacks to most locations within 2 days.  They continue to offer the most premium product and met the shipping issues head on.
Nuts.com is best at one very specific thing and their customer's reviews reflect that.
It is your task to do the same.